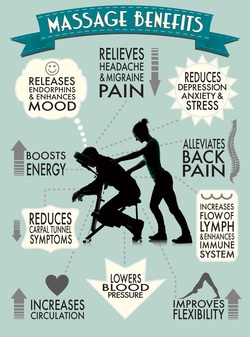 Benefits of Massage
The National Institute of Health (NIH) estimates that more than 90% of disease is related to stress and it's negative impact on the body's immune system.
Massage is a natural and effective tool for diminishing stress; translating into:
reduced anxiety,

improved sleep quality,

more energy,

better concentration,

enhanced circulation,

decreased fatigue.

Massage also addresses a number of other health concerns by:
alleviating low-back pain and improve range of motion,

enhancing immunity by stimulating lymph flow (the body's natural defense system),

increasing oxygen and nutrient delivery into tissues and vital organs, improving circulation,

releasing endorphins (proteins that work as natural painkillers),

easing depression and anxiety,

relieving migraine pain,

exercising and stretching weak, tight, or atrophied muscles,

improving the condition of the skin (the body's largest organ),

increasing joint flexibility,

promoting tissue regeneration, reducing scar tissue and stretch marks,

reducing post-surgery adhesions and swelling,

reducing spasms and cramping,

relaxing and softening injured, tired, and overused muscles.
---